Below is a more or less random collection of work samples. Sorry but after almost 20 years in the industry, it becomes hard to keep track of things. I will keep digging in my box of goodies and I am sure some more stuff will show up here soon.
2011
I supervised the production of animated inserts for the feature film "Meteora", selected for the Berlinale Filmfestival. In total 10 minutes were produced.
2010
I supervised the production of Werner Eiskalt in Chennai, India. I set up a paperless production pipeline which produced 35 minutes of this feature film for the German Market. I am very proud of achieving this level of quality by using a simple pipeline based on Adobe Flash and Photoshop.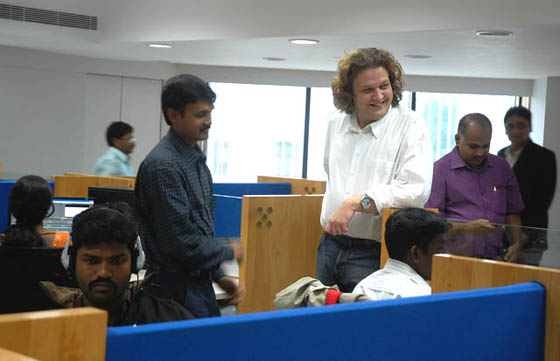 Snapshot - During the production of "Werner" in Chennai, India
4K Animation GmbH
This is some of my work at 4K Animation GmbH in Berlin. I have been working for them since 2004, mainly on 2D projects, but also did some 3D and Visual Effects work. I have also been closely envolved in the development of new projects. www.4k-animation.com